Álex Marco – Un suceso inesperado
Dates: 22.01.21 – 25.02.21
Location:
Centro Párraga – Murcia
Curator:
Aurélien Le Genissel

Somehow, every exhibition is no more than the trail, the remains, the result of accidental actions, the echo of unforeseen decisions. Un suceso inesperado (An unexpected incident), Álex Marco solo show at Centro Párraga, is no exception. These pieces extend this potential for the unexpected, the reality of possibilities in other significant sites such as the artist's own studio or workshop or the urban framework in which we all live. A functionality, halfway between utilitarian and sterile, which analyses the relationship between the creative processes which emanate from the urban setting with the experience of cohabitation in the actual site of creation.
This work is no more (and no less) than a deep phenomenological investigation into the creative process through the everyday materials used and shared, such as fabric, cement, wax, iron, wood or enamel, whose uncertain availability opens up the possibility of a visual analysis of their social use and what we use them for and the way in which we inhabit the city.  Also a reflection on the actual incident – which happens while we explore the possible conditions of that event – the fragile balance between the unpredictable and the calculated, which we find at the heart of this exhibition in a series of pieces whose realisation produces a meandering between chance and technique.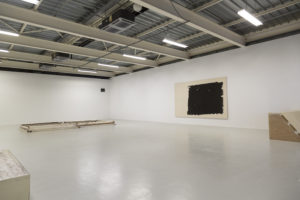 As Stéphane Mallarmé would say, Un suceso inesperado presents itself as pure medium. A place from which anything is possible, a space where the unexpected happens which is perhaps no more than another name for an incident –, time suspended between desire and fulfilment, enactment and remembrance, that false appearance of the present time which the French poet speaks of and which we seem to have lived in recent times.